When you purchase the NDSU vehicle license plate, you:
You show your Bison Pride.
You support student and alumni programs. The State of North Dakota returns $15 from each plate fee to the Foundation. This fee supports programs like the student Bison Ambassador organization, Alumni Career Center services, homecoming/reunion events, broadcast email messaging to alumni and friends, and other public relations opportunities.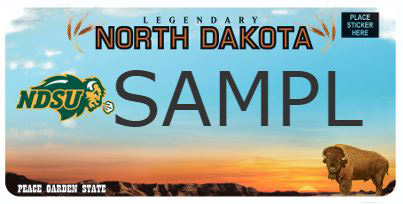 Anyone who has a registered North Dakota vehicle can secure a Bison plate.
For $25, you get the NDSU Bison Plate. You will be assigned a random five-digit plate number in the 30000-39999 range.
For an additional $25, you can specify five letters or numbers of your choice. Click here to check if your letter/number selection is available.

Enter your requested letters/numbers.
Click on the NDSU Plate.
Hit Search at page bottom.

Each year on your vehicle tag renewal statement, you will be assessed:

Regular tag fees.
Plus $25 Bison plate fee.
Plus $25 vanity plate fee (if you select a vanity plate).

Note: You can order your plate today or wait until their annual tag renewal statement arrives.
Send application and payment to the North Dakota Department of Transportation.
Call the North Dakota Department of Transportation at 701-328-2725 and press 2.